!Converted with LaTeX2HTML 95.1 (Fri Jan 20 1995) by Nikos Drakos (nikos@cbl.leeds.ac.uk), CBLU, University of Leeds >
---
Next:
Figure 2. Local
Up:
PERTURBATION ABOUT A
Previous:
PERTURBATION ABOUT A
---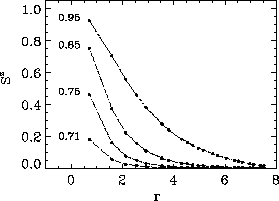 Figure 1:   Profiles of

vs. distance r from the vortex center, for single static out-of-plane vortices at the center of a circular system with 180 sites on a square lattice. The curves are labelled by the different values of

. These results were obtained by the relaxation procedure described in the text (Sec. ii), using a fixed boundary condition as described in Sec. iv.

Now the approach is to make the spinwave perturbation calculation using the directions,

, as the different local quantization axes for each site. This is similar in spirit to a spinwave calculation for an antiferromagnet, [25] in which the classical ground state can have sets of spins on the different sublattices aligned along different directions, and the perturbation analysis uses different coordinate systems for different sublattices.
---
Gary M Wysin
Mon Sep 11 12:02:10 CDT 1995