Research Progress
(Here I describe our current state of research and future plans)
<![if !vml]>

<![endif]>MENU
<![if !vml]>

<![endif]>Homepage                                Research Description                                    Summer REU Activities
Presently, we are working on testing the last set of our single TBM chips before we move onto the larger wafers that contain thousands of TBM chips (Finished as of 7/25/14). It is unclear as to if we will yet complete testing the six wafers that we have left. These wafers present many problems due to how the chips are laid out on the wafer and how the software is able to automatically map these wafers.
One of the TBM wafers needing testing.
<![if !vml]>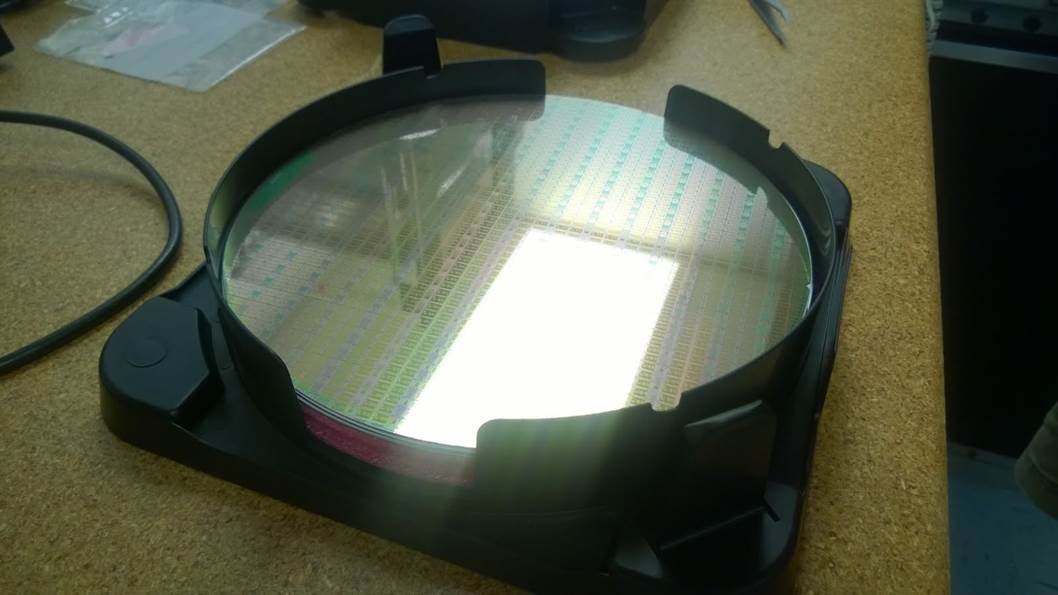 <![endif]>
Update 7/28/14: The wafers will most likely not be completed before we leave KSU. We seemed to be having some issues making contact with the TBM chips placed on the wafers. We believe this may be due to the amount of humidity inside the Hi-bay environment in which we work. This was being managed with a dehumidifier, but unfortunately, the air conditioning in the room was broken so the issue persisted.
The individual TBMs that were tested are being sent to different labs to be assessed for radiation hardiness. The wafers will remain at KSU and continue to be tested until they are confirmed to function as desired.
The CMS detector is due for its upgrade in approximately 2017. The new pixel detector will provide a higher fidelity of particle detection at even greater energies. The TBM wafers tested at KSU will be sent off for further testing at other labs, then, eventually, sliced into individual chips and used at the LHC.