Faculty member recognized with K-State's most prestigious teaching award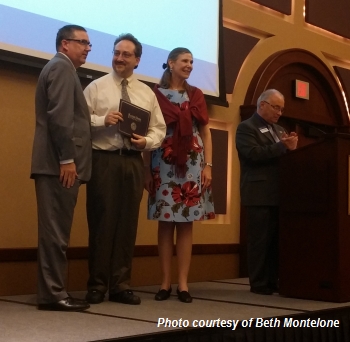 Physics faculty member Brian Washburn, was one of five Kansas State University faculty members and one graduate student who received 2015 Presidential Awards for their compassion, dedication and creativity as educators, advisers and administrators at the All-University Awards Ceremony May 6.
Washburn, associate professor of physics, received a Presidential Award for Excellence in Undergraduate Teaching.
The award includes a $2,500 honorarium and plaque sponsored by the president's office and Curtin Property Co., a real estate development firm with offices in Manhattan and Kansas City.
"The hard work and dedication that these educators contribute in and out of the classroom for Kansas State University students is not only helping students succeed now but also in their future careers," K-State President Kirk Schulz said. "I appreciate the continued support of Chris Curtin and Curtin Property Co. to reward these talented individuals and advance K-State's goal of becoming a Top 50 public research university by 2025."
"The Curtin Property Co. and its Manhattan associates at Georgetown Apartment Homes and Westchester Park Apartments are pleased to join with the K-State president's office in recognizing and rewarding these highly talented educators," said Chris Curtin, company president. "Their commitment to their students' success, to professional excellence and to K-State is inspirational to all of us."
The Presidential Awards for Excellence in Undergraduate Teaching recognize compassion, dedication and creativity in undergraduate teaching. Three awards are given for faculty and one award for a graduate teaching assistant.
Washburn teaches Engineering Physics 1, Physics 1, Engineering Physics 2 and Physics 2. He has a Bachelor of Science in physics from the University of Wisconsin, Parkside and a doctorate in physics from the Georgia Institute of Technology.