Students from across the US Join Department for Research Experiences

Twelve undergraduate students from across the United States are at Kansas State University this summer for a 10-week program where they will conduct world-class research in various areas of physics.
The Physics Research Experiences for Undergraduates program, which is funded by a grant from the National Science Foundation, pairs each student with a faculty mentor who assists them in experiencing and contributing to real physics research. The student projects will culminate with an oral or poster presentation summarizing their research project.
In addition to their time spent on experimental or theoretical work, students spend a few hours each week learning about the physics behind faculty research projects within the Physics Department as well as ethical issues in physics.
The 12 participants were chosen from a pool of 200 students consisting mostly of college sophomores and juniors who have expressed an interest in a research career in physics. This on-campus experience will assist most in furthering that goal, and help all participants assess if pursuing a graduate degree in physics is a good fit for them.
Students are living in K-State dormitories and working closely with Physics graduate students, postdoctoral researchers, and faculty members as they learn a variety of research techniques.
Students attending the 2014 K-State Physics REU program are Alexander Armstrong of Santana, CA; Wyatt Behn of Kearney, NE; Alison Gomez of Edinburg, TX: Michael Hastings of Blue Jay, CA; Emily Herman of Black Creek, WI; Stephen Houston of Tribune, KS; John Lyons of Wheaton, IL; Madilena Mendiola of San Diego, CA: Joshua Nelson of Salina, KS; Maria Prado of Williamstown, MA; Jaime Richards of Glassboro, NJ; and Daniel Todd of West Chesterfield, NH.
Several Kansas State University students are participating in the program while funded through various other sources: Ben LeValley and John Thompson of Salina KS; Ryan Luder of Overland Park, KS; and Edward Schenk IV, of Junction City, KS.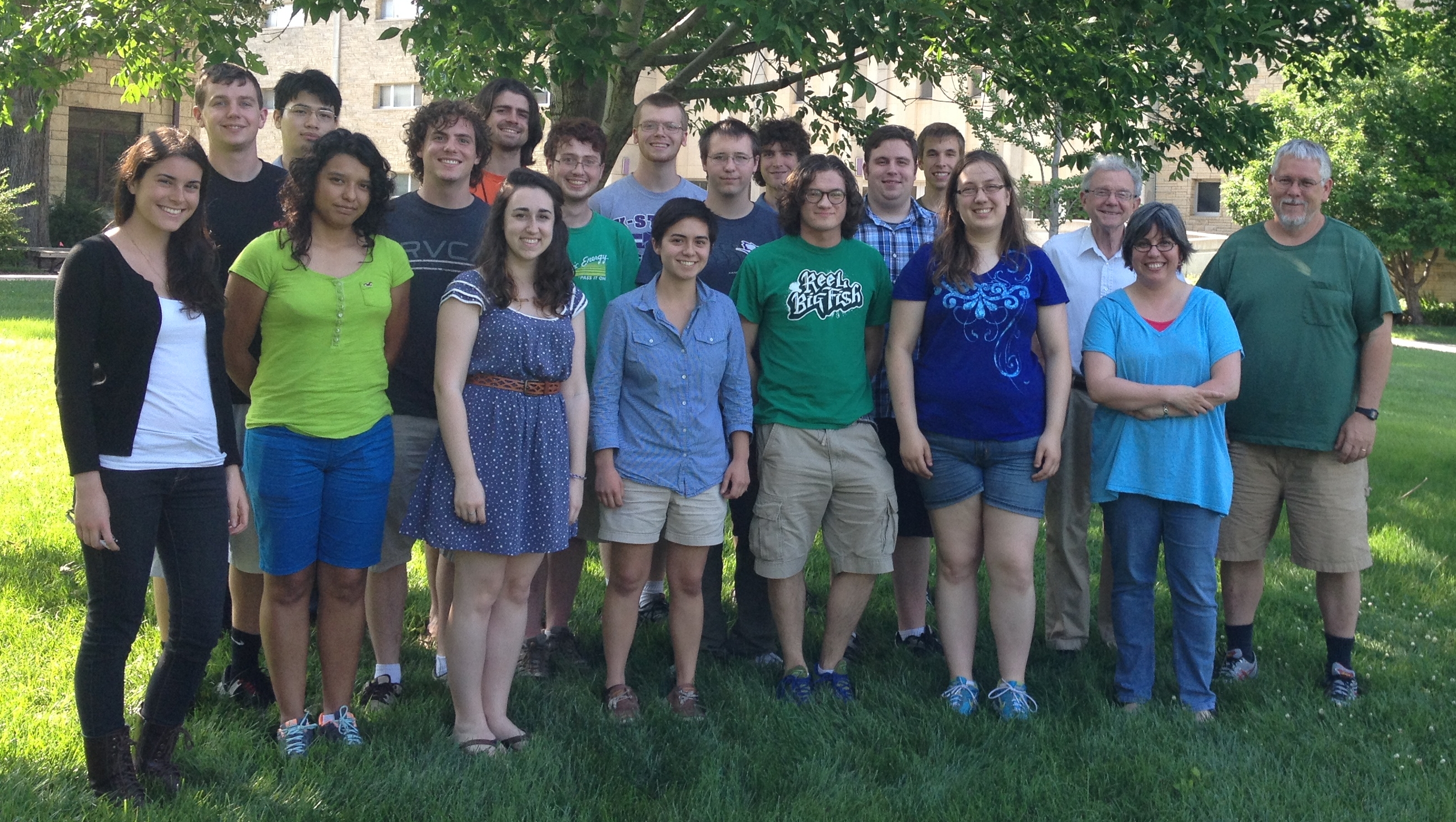 The Physics REU program at Kansas State University after their first afternoon ethics class. Shown are (front row): Maria Prado, Alison Gomez, Jamie Richards, Madilena Mendiola, John Lyons, Emily Herman, and Dr. Amy Lara; (middle row): Stephen Houston, Michael Hastings, Ryan Luder, Joshua Nelson, Daniel Todd, Dr. Larry Weaver, and Dr. Bruce Glymour; (back row) Edward Schenk IV, Alex Armstrong, John Thompson, Ben LeValley, and Wyatt Behn. Physics faculty members Drs. Weaver and Corwin (not pictured) coordinate the program, while Philosophy faculty members Drs. Lara and Glymour teach the students an 8-week ethics class.