Dr. Mary Rezac
Phillips 66 Professor of Sustainable Energy
Department of Chemical Engineering
Kansas State University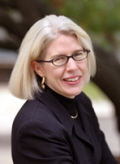 Solute transport through polymers:
Manipulating structure-property-performance relationships for desired results
102 Cardwell Hall
May 4, 2015
4:30 p.m.
Transport of gaseous and liquid solutes through polymers is impacts applications ranging from salt water desalination to microelectronic chips, from food packaging to industrial chemical processing. This presentation will examine the physical processes that control the sorption and diffusion of solutes in and through polymeric films. The generally accepted models for the transport processes will be reviewed. Finally, the development of polymeric materials with properties appropriate for a specific application will be reviewed.
The application examined will be the recovery of a soluble transition metal complex employed as a homogenous catalyst from the reaction media. The catalyst complexes have molecular weights and volume larger than the other components of the reaction providing the opportunity for a membrane separation based on retention of the catalyst species while permeating the other components. The challenge of such a separation is developing a membrane that is resistant but highly permeable to the organic chemicals of the reaction – which are typically quite aggressive to polymers – while at the same time maintaining the membrane's ability to reject the catalyst. Nanofiltration membranes have demonstrated the solvent resistance necessary for these applications and in a few cases, adequate catalyst rejection. But in most cases the catalyst rejection at appreciable fluxes was insufficient. This presentation will focus on the viability of a dense non-porous membrane for this type of application, which should present good catalyst rejection characteristics with the challenge being attaining the fluxes necessary for a productive operation.
---
Dr. Mary Rezac is the Phillips 66 Professor of Sustainable Energy and Professor of Chemical Engineering at Kansas State University. She joined K-State in 2002 and served as head of the chemical engineering department from 2004 – 2009. In 2007, she became the founding director of K-State's Center for Sustainable Energy (CSE). CSE is home to the University's first NSF IGERT award and provides educational program development, shared research facilities, and research project coordination for over $10M in projects supporting more than 40 faculty and graduate students. She received a B.S. in chemical engineering from Kansas State University in 1987. Subsequently, she worked for the Phillips Petroleum Company in their R&D division before returning to graduate school at the University of Texas in Austin where she received an MS and PhD in chemical engineering. In 1994, she joined the faculty of the Georgia Institute of Technology's School of Chemical Engineering. She was promoted to Associate Professor in 1998 and served on numerous administrative capacities for the school and the college.