Margaret Wertheim
Artist, Curator, Author & Science Communicator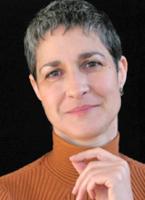 Making Space
109 Justin Hall
Thursday, September 12, 2013
7:00 p.m.
Space has become a central subject of our time.
Acclaimed science writer and exhibition curator Margaret Wertheim discusses the history of Western understanding of space as seen by scientists, mathematicians and artists. Wertheim traces the evolution of thinking about space from Dante to the internet, and considers ways in which representations of space may be realized in physical and tactile form. Selected Wertheim publications will be available for purchase.
Margaret Wertheim (born 1958, Brisbane, Australia) is a science writer and author of books on the cultural history of physics, including three books that collectively consider the role of theoretical physics in the cultural landscape of modern Western society.
Her book "Pythagoras' Trousers: God, Physics, and the Gender Wars" is a history of the relationship between physics and religion. Her book "The Pearly Gates of Cyberspace" charts the history of scientific thinking about space from Dante to the Internet. The third book in this series, "Physics on the Fringe," looks at the idiosyncratic world of "outsider physicists," people with little or no scientific training who develop their own alternative theories of the universe.
---
This lecture is sponsored by the Beach Museum of Art and the Departments of Physics and Art.