Carr to deliver Peterson General Public Lecture in Physics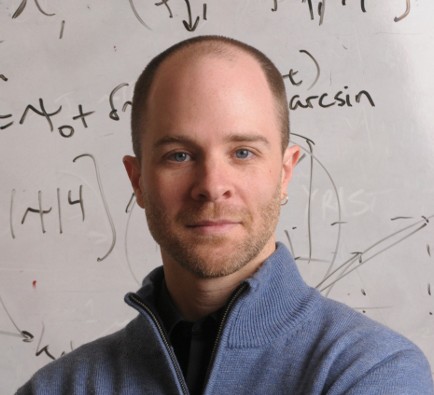 Lincoln D. Carr, professor of physics at the Colorado School of Mines, will present the 2019 Chester Peterson, Jr. Public Lecture in Physics. The non-technical lecture, "How the Quantum Craze is Changing the World: From the Hilarious Feynman to 300+ Seriously Powerful Quantum Computers" will be held on Monday, October 7, at 4:30 p.m. in Room 103 of Cardwell Hall at Kansas State University.
Carr will give a brief history of quantum information science and explain the types of problems solved up to now and what those in the field hope to accomplish in the next few years. He will also explain the difference between "digital" and "analog" quantum computing and why so many scientists, universities, governments and corporations worldwide think quantum will go from the single-body quantum mechanics underpinning CPUs that is taught in undergraduate physics, chemistry, and materials science classes, to the many-body entangled quantum mechanics of QPUs ̶̶ the quantum processing unit.
In addition, he will discuss a quantum engineering program being created at the Colorado School of Mines that is appropriate for all STEM researchers and discuss why quantum is more accessible than people think for physicists and non-physicists.
Finally, he will present a taste of his own research in which he uses quantum simulators to explore the potential origin of the complexity observed all around us in the quantum world.
Carr graduated with a Bachelor of Arts degree in physics from the University of California, Berkeley in 1994. He has a Master's and PhD from the University of Washington.
Lincoln is a Fellow of the American Physical Society, Alexander von Humboldt Fellow, Kavli Fellow of the National Academy of Science, and National Science Foundation Distinguished International Fellow.
Carr's research focuses on the frontiers of complexity theory in the quantum world. He has taught for over 25 years in the sciences and humanities on topics ranging from quantum physics to revolution.
Refreshments will be available at 4:00 p.m. in Cardwell Hall, Room 119.
The non-technical lecture is open to the public and is free of charge. Students, faculty and community members are encouraged to attend.
This lecture series is supported by an endowment from Chester Peterson, Jr. aimed at publicizing and presenting an annual public lecture series concerning cosmology or quantum mechanics.