We are studying the effects of a magneto-optical phenomenon known as Faraday rotation. In essence, we are passing a beam of polarized light through a small container of gold nanoparticles, applying a powerful magnetic field, and observing how much that beam of light is "twisted" as it exits through the other side. Faraday rotation was discovered by Michael Faraday in 1845 and was the first experiment whose evidence suggested that light and electromagnetism are related.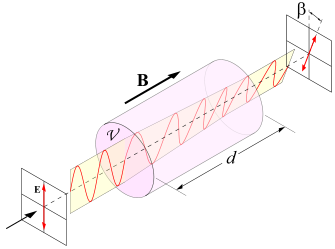 The amount of rotation we see is dependent on many factors such as the strength of the magnetic field, the physical length the light travels through the solution, and the concentration of atoms in the nanoparticle solution. Many materials have the ability to induce Faraday rotation (including water), but gold in particular is interesting because of its unique atomic and optical properties. Specifically, we can create propogating plasma waves on the surface of these nanoparticles when they are excited resonantly by incoming electromagnetic radiation.

Our area of research has applications in several fields, such as creating surface plasmon-based nanocircuits that overcome the size limitations of traditional circuitry, near-field microscopic imagery, and cancer treatment. For a detailed description of the project, including our methodology and a brief explanation of the theory involved, please [click here]

.