Lado Samushia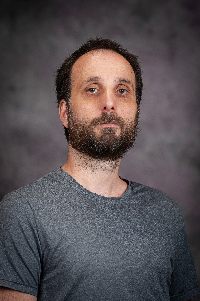 Associate Professor
13 Cardwell Hall
lado@phys.ksu.edu
Group webpage
Ph.D. Kansas State University, 2009
Research Area
Cosmology
Recent cosmological observations show that more than 25 percent of the Universe is made of dark matter and about 70 percent of it is made by dark energy. The exact nature of dark matter and dark energy are yet to be determined.
I am using 3D maps of galaxy distribution from current spectroscopic galaxy surveys such as SDSS-III survey (www.sdss3.org) to study the properties of dark energy. These large data sets can also be used to study properties of gravitational interactions and check whether Einstein's General Relativity is a correct theory of gravity. We have used the most recent data set from SDSS-III to measure the distances to remote galaxies with better than 1 percent precision and to measure the expansion rate of the Universe with a 4 percent precision (http://mnras.oxfordjournals.org/content/439/4/3504).
The next generation of spectroscopic galaxy surveys will provide us with data that's orders of magnitude larger than what we have today. I am involved with
the Euclid satellite mission (http://www.euclid-ec.org) and DESI mission (http://desi.lbl.gov). Both are scheduled to start by 2020 and by the time of
completion will significantly advance our understanding of the properties of dark energy and gravity.
Research Support
Recent Selected Publications
"The clustering of galaxies in the SDSS-III Baryon Oscillation Spectroscopic Survey: measuring growth rate and geometry with anisotropic clustering", L. Samushia et al., Monthly Notices of Royal Astronomical Society, Volume 439, page 3504 (2014) [link]
"The clustering of galaxies in the SDSS-III DR10 Baryon Oscillation Spectroscopic Survey: no detectable colour dependence of distance scale or growth rate measurements", A. Ross, L. Samushia, et al., Monthly Notices of Royal Astronomical Society, Volume 437, page 1109 (2014) [link]
"The clustering of galaxies in the SDSS-III Baryon Oscillation Spectroscopic Survey: mock galaxy catalogues for the low-redshift sample" M. Manera, L. Samushia, et al., submitted to the Monthly Notices of Royal Astronomical Society (2014) [link]
"The clustering of galaxies in the SDSS-III DR9 Baryon Oscillation Spectroscopic Survey: testing deviations from Λ and general relativity using anisotropic clustering of galaxies", L. Samushia, B. Reid, et al., Monthly Notices of Royal Astronomical Society, Volume 429, page 1514 (2013) [link]
"The clustering of galaxies in the SDSS-III Baryon Oscillation Spectroscopic Survey: measurements of the growth of structure and expansion rate at z = 0.57 from anisotropic clustering", B. Reid, L. Samushia, et al., Monthly Notices of Royal Astronomical Society, Volume 426, page 2719 (2012)