Chii-Dong Lin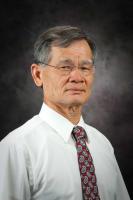 University Distinguished Professor
230 Cardwell Hall
(785) 532-1617
cdlin@phys.ksu.edu
Personal Webpage
Ph.D. University of Chicago, 1974
B.S. National Taiwan University, 1969
Research Area
Theoretical Atomic, Molecular & Optical Physics
We are investigating the interaction of intense femtosecond and attosecond light pulses with atoms and molecules. We have established a quantitative rescattering theory which allows us to extract the structure information on the target from laser-generated high-order harmonics and high-energy photoelectrons. Currently we are extending the method to use ultrashort laser pulses for dynamic chemical imaging with femto- to sub-femtosecond temporal resolutions. We also investigating electron dynamics using attosecond pulses.
Research Support
Department of Energy
National Science Foundation
Recent Selected Publications
H. Wei and C. D. Lin (2016). Critical evaluation of attosecond time delays retrieved from photoelectron streaking measurements. Physical Review A, 93, 053412
A-T Le, H. Wei, C. Jin, and C. D. Lin (2016). Strong field approximation in high-order harmonic generation with mid-infrared lasers. Journal of Physics B: Atomic, Molecular and Optical Physics, 49, 053001.
C. Jin, G.J. Stein, K-H. Hong, and C. D. Lin (2015). Generation of bright, spatially coherent soft x-ray high harmonics in a hollow waveguide using two-color synthesized laser pulses. Physical Review Letters, 115, 043901.
M. Pullen , B. Wolter, A-T. Le, M. Baudisch, M. Hemmer, A. Senftleben, C.D. Schröter, J. Ullrich, R. Moshammer, C. D. Lin, and J. Biegert (2015). Imaging an aligned polyatomic molecule with laser-induced electron diffraction. Nature Communications, 6, 7262.
Chao Yu, Hui Wei, Xu Wang Anh Thu Le , Ruifeng Lu, and C. D. Lin. (2015) Reconstruction of two-dimensional molecular structure with laser-induced electron diffraction from laser-aligned polyatomic molecules. Scientific Reports, 5, 15753.